You can be the proud owner of your very own beautifully shaped, glass jar of Honey Rocket Honey.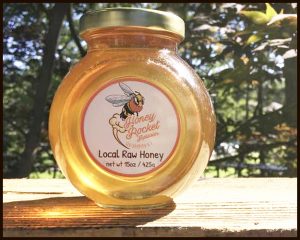 You will be mesmerized by the sheer, golden glow of this honey and its magical flavor will transport you to the garden of dreams. With winged notes of sunlight and blossoms, even the thirst-quenching rain that fell on the flower petals is detectable on your tongue. The summer breezes, dramatic thunderstorms, hot days, cool nights, all align as the sunlight flavor dissolves across your tongue, the cells of your body benefiting from the inspired work of the bees, the tireless, fearless bees, the bees that alight from their hive in the morning to trek like soldiers across the land to find each and every bloom in need of attention.
We have a duty to assist them in this diligent effort for food production, as we are its primary beneficiaries.
Call us at 516.381.1426 or 631.287.3733 if you would like to purchase your own jar of sunlight, summer breezes, flights of fancy and Honey Rocket love!
Or you can email us directly to arrange a meet-up here at our office @ 675 North Sea Road to buy one shy-pound jar for $22.00. Cases are also available at a discounted price of $240.00 for twelve jars.
If you prefer your raw, local, Honey Rocket fuel to come in smaller packages, then we also offer an 8 ounce glass jar for the low cost of $12.00. Cases are available at the discounted price of $135.00 for twelve jars.
These jars are so beautiful, they glow. Also, they would make an excellent addition to gift baskets or as a thoughtful holiday gift. All this on top of the fact that this is the MOST delightful honey this bee-appreciator has ever tasted!
If you need your dose of Honey Rocket fuel while we are out of reach, please know that this incredible honey is available at The Village Gourmet Cheese Shoppe at 11 Main Street, Southampton, New York. Open seven days a week from 7 a.m. to 5 p.m., please let the good folks at the Cheese Shoppe know we sent you!
Add this item to your autumn or holiday gift-giving plans and your friends and relations will assail you with thanks. Add this ingredient to your diet, and benefit from the health improvements associated with this natural elixir from the buzzing beauty of Mother Nature. And please remember, raw honey is very safe for healthy adults, though keep in mind that it can be dangerous for infants [sources recommend to never feed raw honey to babies younger than a year in age] and pregnant women, so please be wise in your gifting and administering.

Please email Patrick at patrick@adesignsystems.com or Julie at julie@adesignsystems.com and we will arrange to meet with you, so you can get a taste of the absolute happiest honey in the Hamptons.
8 oz. = $12.00 per jar  / Case of 8 oz. jars = $135.00
Shy-pound (15+ oz.) = $22.00 per jar  / Case of Shy-pound jar = $240.00
Fasten your rocket-belt & get ready to love these Honey Rockets for their unrivaled blast of deep, delightful flavor & nourishing health benefits!