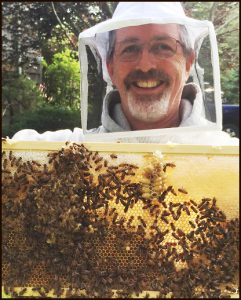 Patrick and his team of Honey Rockets are hard at work while you are sunbathing at water's edge, bike-riding through town, nibbling on tasty snacks while enjoying the view, driving in traffic, sitting in traffic, lamenting the traffic, singing at top falsetto, napping in the hammock and so on. Busy, buzzing along as they search flower to blossom to bloom for sweet nectar, these bees accomplish a job so important that if they stop, the planet may just come to a hungry end.
While out working in the field, Patrick logs many miles on his way to Montauk, hopping the ferry to Shelter Island, buzzing around Southampton, out to the fields of Amagansett, north to North Haven, through Sag Harbor, back through Bridgehampton, and all the while he's checking in on his favorite team of Honey Rockets!
Hives are located in Water Mill, Noyack, Sagaponack, Southampton, Bridgehampton, Sag Harbor, Montauk and beyond. The color of the honey is determined by the blossoms the Honey Rockets collected from – buckwheat blossoms make a deep, warm dark-colored honey while wildflowers create a lighter-colored honey.
Each Spring, the first flowers bees derive sustenance from are dandelions. Many people keep dandelions growing in their yards as a way to support the health and well-being of bees at a time of year when nourishment sources are close to nonexistent. For many years, some people have not understood the negative impacts of dousing the lawn in pesticides and harsh chemicals. Most people now understand, though, that the wide and varied network that is nature's system for growing grass as well as food, includes beneficial bacterial, fungal and micro-organisms that make plant and food production possible, and when we kill them with poison we jeopardize our food supply. Never in the history of humanity has jeopardizing the food supply been an intelligent action to take. It is imperative that we protect bees, if we enjoy eating food on a regular basis.
Respecting the need bees have to nourish themselves may provide humans and wildlife a reciprocal relationship whereby everyone gets to stay alive and enjoy good food. Otherwise, if bees disappear, we may also not survive.
For the Wise and Worldly:

If you are a lover of local, raw honey, please contact us for the best honey on tap. A shy-pound jar is only $22 and a eight ounce jar is only $12, so call or email today and we will sweeten your existence in a beautiful and healthy way!
Also, we offer cases of twelve jars for $240 (15 oz.) and $135 (8 oz.). If you are a local, gourmet shop owner who wants to offer the best local honey, please let us know and we will provide gorgeous jars for you to inspire your customers with, for their beauty and for their nutritional and medicinal properties.
We are happiest delivering superior honey to the Hamptons, so please get in touch and we'll help you get golden!